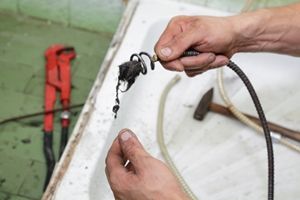 Ask any long-time homeowner and you will hear all about the myriad of plumbing issues they have had over the years. Some are minor inconveniences while others may be near disasters. The bottom line is that you can expect that, at more than one point in your life, you are going to be faced with plumbing problems. In order to be better prepared, here are some examples of 5 of the most common plumbing related occurrences. Being aware of the potential problems you could face with your home's plumbing system will help you be better informed when you contact a plumber for plumbing repairs in Cranford, NJ.
Problems That Need Plumbing Repairs in Cranford
Making Smart Choices
Another common problem is that homeowners make poor choices about the Cranford plumber they rely on in order to get their plumbing problems taken care of. Letting someone without the proper credentials take care of your plumbing repairs in Cranford, NJ, just because they offer a really low price, is only going to end up making things worse. Since 1932, Chapman Bros. Plumbing, Heating, and Air Conditioning has been the name that locals rely on for plumbing services. Don't keep putting off until tomorrow what we can take care of for you today.
If you are looking for an expert for plumbing repairs in Cranford, NJ, then please call
(908) 356-5143

or complete our online request form.
Leaky Pipes – The biggest problem is that small leaks often happen in a place where they are not seen or noticed. Even an exposed pipe in your basement with a leak could go unnoticed if you are not down there often. Worse, are the leaks that people choose to ignore because they are "minor." Keep in mind, small leaks quickly develop into major ones.
Drains – Slow or clogged drains are an ongoing complaint with homeowners. Many people also ignore this and learn to live with it and work around it. Until, at some point, the blockage becomes too much and you are at risk of actually flooding your home.
Dripping faucet – Let's be honest, this is one of those that gets ignored unless the sound is enough to drive you mad at night when you are trying to sleep. Ignoring this will eventually lead to a worse drip and countless hundreds of dollars wasted down the drain. Be sure to call a plumber for plumbing repairs on this one sooner rather than later.
Running Toilets – It may not seem like much, until you learn that you could be wasting as much as 200 gallons a day. This is a wasteful and expensive issue, as well as one that gets annoying to listen to before long.
Water Heater – This is one that cannot be ignored, unless you don't mind bathing in cold water. If you notice telltale signs like leaks, rust in the water or other read flags, address the issue before it becomes an emergency repair job.